Pattern Pro With Antony Morato
Recently I've received some requests for fashion tips that weren't, 'Super Fashion' and while I never do anything not 'Super' .. some might say extra... I decided to meet these readers halfway. With the holiday season upon us and the onslaught of cocktail parties that will follow, there is no better time to experiment. Injecting some print into your wardrobe is the added pep your next outfit needs and will ensure you don't get lost amongst the sea of safe fashion and twinkly lights.
The added dates in your calendar plus a little liquid courage (mulled wine anyone?) combine to form the perfect setting for some pattern play. The best part of trying something new over the holidays? If it goes awry you can always wash it down with more eggnog, not that you'll have any mishaps with these 4 tips ...

1. Stick to a Colour Palette ... Whether you're just dipping your toe into the printed pool or you consider yourself a certified mix master, save the risky moves for under the mistletoe. By picking one grounding colour from your print and basing your outfit off that, you'll be sure to avoid any missteps. With this Antony Morato look - the seemingly disparate suit and shirt combo come together thanks to the unifying cool colours (icy blue and charcoal grey). Another trick when trying just one print is to pair it back to a neutral like Black, Brown, Navy or grey. This blazer would look equally as good with a more subtly printed shirt in cool blue and dark denim for after-work drinks.
2. Stick to one Brand or Designer ... Take the guesswork out of your next ensemble by sticking to one brand or designer. Whether high street or high end, a lot of thought goes into creating the collections we shop daily. In addition to one creative director, a team of experts has carefully considered; fabric combinations, prints and the overall colour palette to present a unified collection. Leaving it up to the experts is really a win-win, you get one-stop shopping and are almost guaranteed a fool-proof foray into the world of prints.
3. Size Matters ...The key to clashing prints is all about size and scale. Whether your pairing stripes and starburst patterns (as seen here) or a simple check shirt and polka dot tie. Opt for eclectic prints at the opposite end of the size spectrum. Look at both the size and density of the mix, for example, the loose allover pattern of the sunburst print here is a nice contrast to the rigid and symmetrical charcoal stripes of the blazer and trousers.

4. Let your Prints do the talking ...
If you must relegate your printed look to a single print... be sure it's the star. Subdued accessories like a simple watch or keepsake ring will ensure that the focus is on your printed hero piece. If you're feeling more adventurous, round off your look with a statement shoe (a brown croc brogue perhaps?)
Check out my full Antony Morato look below ... comprised of the AW16 wool blazer + trousers and the SS17 shirt (which is not yet available online) Shop the look via Antony Morato here : Blazer , Trousers .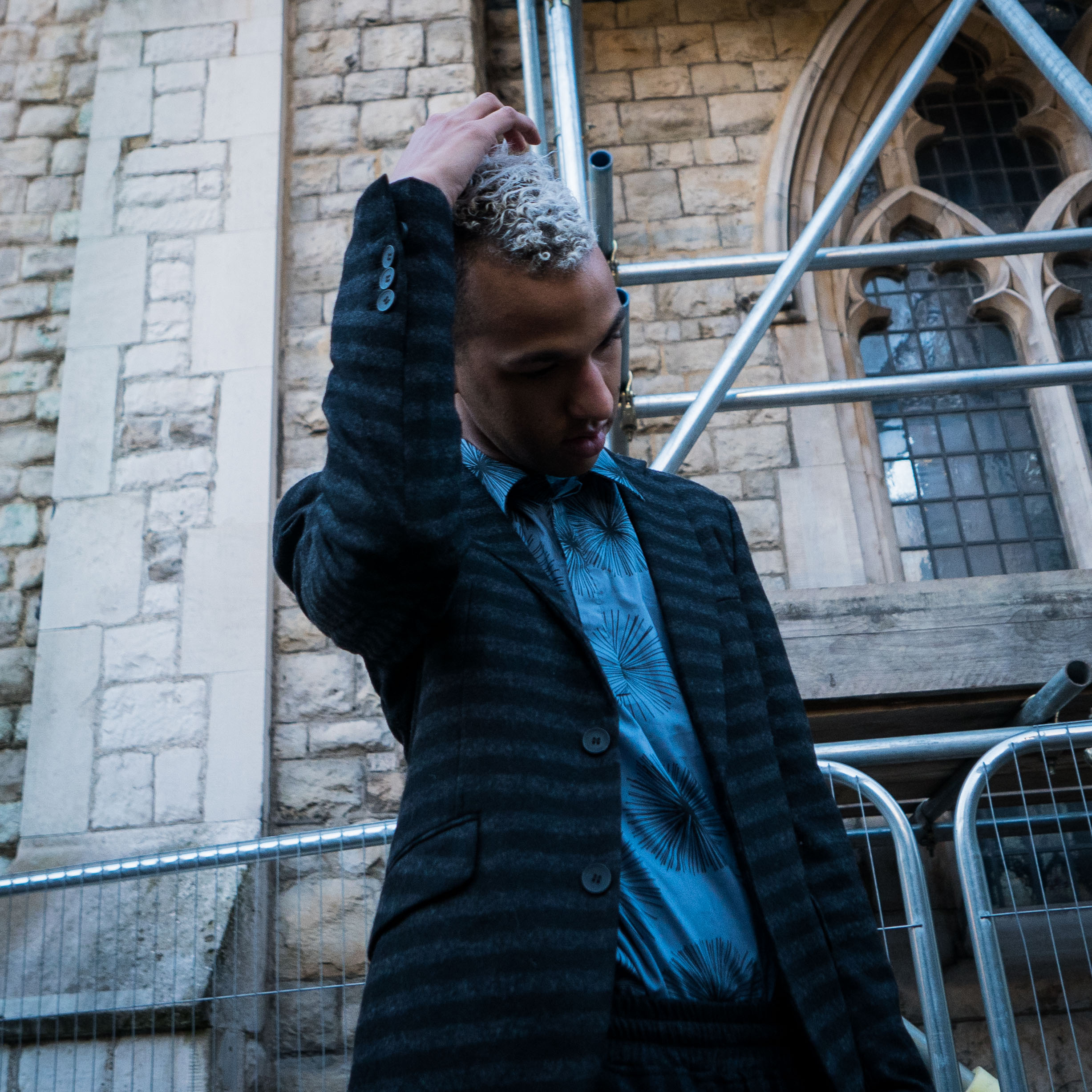 Photos by Rowben Lantion,
clothing courtesy of Antony Morato via CHASE PR